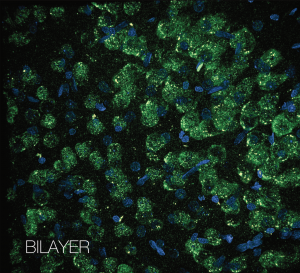 New release coming up on Va Fongool!
Hilde Marie Holsen and Magnus Bugge make their debut as Bilayer with five original compositions on this self-titled LP. Two prominent figures on the Norwegian contemporary music scene, Holsen and Bugge have been making and playing music together since 2016.
Magnus Bugge is a composer and artist whose work ranges from films scores to installations. Using analogue and digital synthesis, tape music techniques, generative and algorithmic systems, experimental sequencing and sonification, Bugge sculpts immersive pieces that experiment with space and time in music. An MA graduate from the Norwegian Academy of Music, Bugge met Holsen at school and the pair started working together as Bilayer shortly after. The pair played as a live performance duo before becoming recording artists with a little help from the Norwegian national Jazz Fund.
The project sees Hilde Marie Holsen taking time off from her solo work which today contains two critically acclaimed albums – "ASK" and "Lazuli" on Hubro –and lauded appearances on stages for the likes of Oslo Jazz -, Punkt- and Rewire festival. The brass musician manipulates the trumpet as her chosen instrument to coax out otherworldly sounds through the digital realm of computer processes, bridging a gap between jazz, ambient, electronic and experimental genres.
What started as little more than a couple of "music tech nerds hanging out together" found its shape eventually when Bugge edited and arranged the eight hours of recorded material they had captured during their practice sessions. Deleting a lot of the material, recording more material and then re-contextualising moments of pure improvisation into fully formed compositions, Bugge and Holsen came out at the other end with one half of the LP which resides today on the opposite side of a live, recorded performance from the same time. The debut album comes out via the Norwegian label Va Fangool.